by Jake
|
Last Updated:
July 14, 2021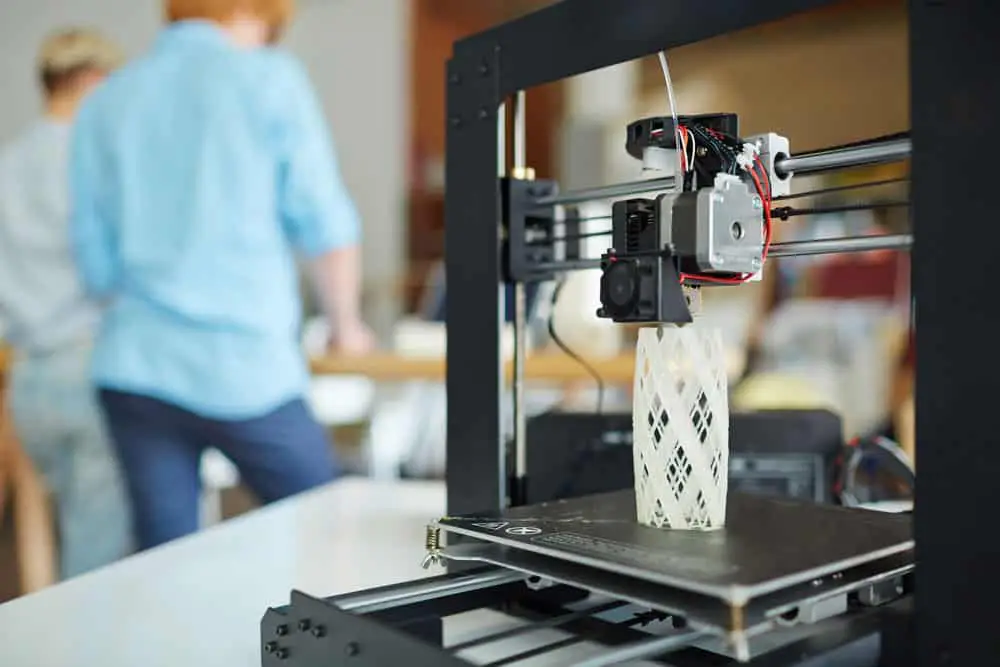 If you're looking for a budget entry 3D printer that offers good value for money then look no further. We've put together a list of the most popular and highly recommended 3d printers under $200. 3D printing can be an expensive hobby but trying it out for the first time doesn't have to break the bank.
Like with all hobbies, beginners and those who are intrigued to learn more often look for something cheap to start with. However, the 3D printer is built around precision-based technology so it's important that you don't go and buy the cheapest printer on the market. You also don't want to be buying unknown brands. Falling into any of these two traps will almost always lead you to wasted money and disappointment.
So this is where we step in, we've put together our list of recommendations with two things in mind – value for money and quality 3D printing results. A lot of these printers are perfect for beginners because they come pre-assembled and they are easy to use.
We're certain that you'll find the right budget 3D printer for your situation and experience in our list. These are the five best choices on the market at the moment and will give you an insight into which printer is the best cheap 3d printer under 200.
3D Printer Reviews
The Creality Ender 3 has been a firm favorite in the world of 3D printing since its initial release. We can't seem to find a better all-around 3D printer in the budget price range. In fact, the Ender 3 is more capable than most printers under $500 which shows just how well this printer has been designed and constructed. The build volume is one of the largest in the budget range so you've got lots of room for experimenting with different sized models.
The heated build plate is uncommon in budget 3D printers and again shows why the Ender 3 offers great value for money. The power recovery mode is a useful backup feature that kicks in if you happen to endure any power-loss situation. The optimized filament pathway is an excellent sign of attention to detail and this makes it easier for you to print with flexible materials. We love the fact that when you buy the Ender 3 you're getting a printer that is full of features and very flexible all for under $200!
Most people who purchase the Ender 3 are impressed with the printing performance. No matter if you're using PETG, ABS, or PLA filaments you'll end up with great results most of the time. We say most of the time because it does take practice and skill to work with the more flexible filaments like TPE (thermoplastic elastomer) and TPU (thermoplastic polyurethane).
The Ender 3 does make it as easy as possible though so it's definitely worth trying out at some point. The build plate requires some extra adhesive attention when working with some filaments but it's not a huge issue and happens to be very common with budget printers, especially those that are designed to print with multiple filaments.
You'll need to manually calibrate the Ender 3 and the extra-large leveling knobs on the print bed makes this process fairly hassle-free. Although beginners might initially struggle, you'll find that it's a good skill to master in the long run. However, the one main downside to the Ender 3 is the uneven base which can give your whole printer a slight wobble.
This can be easily fixed depending on how bad the wobble is by fixing a wedge underneath one of the corners. Obviously, stability is one of the major factors when printing in 3D but on the whole, the Ender 3 is an excellent budget choice and that's why we've named it our Top Pick. It comes with a spec that could easily command double the asking price and its versatility will keep both beginners and experienced 3D printers entertained. Keep the Ender 3 printer at the top of your "most wanted" list because we think it's the best 3d printer under $200!
Pros
Very affordable
Large print volume
High-quality prints
Open source with lots of support
Optimized filament path for flexible filament use
Easy assembly
Many upgrades available
Cons
Print bed sometimes needed extra adhesion
Manual calibration required
Needs a stronger print bed
The da Vinci Mini Wireless+ is an absolute bargain in our eyes. Not only will it give you great 3D prints but it's easy to use and looks great as well. Choosing this printer as our Budget Pick was fairly straight forward and it deserves its place on our list to find the best 3d printer under 200.
The da Vinci Mini series has become a popular choice for those looking for affordable 3D printers. One of the main advantages is that it welcomes itself to complete beginners who would rather not have to deal with the whole DIY assembly process. 3D printing can be complicated enough to master in the early days so anything that makes the process easier is going to be a popular option on the current 3Dp printer market.
The da Vinci Mini Wireless+ is ready to print straight out of the box and it's also easy to use so that's a win-win straight away. Why is it so easy to use? The automatic leveling takes away one of the most tricky aspects of 3D printing and is a welcome feature. The WiFi connectivity allows you to gain direct access to over 4,500 3D model designs. The build volume is large in comparison to some of the other printers in this review plus the auto-calibration is another surprising feature in our Budget Pick printer.
The price really makes this printer a worthwhile purchase. If you keep in mind that it comes loaded with beginner-friendly features and it's also pre-assembled then it's clear that this is a deal worth taking advantage of. You'll get decent-quality prints with a reasonable level of accuracy and detail. Of course, it's not going to offer high-definition precision detail but the quality can certainly hold its own when compared to other more expensive 3D printers.
The wireless connection has been known to be a little temperamental on this printer so maybe XYZPrinting should look at that when they design their next version of the da Vinci Mini printer. Plus, the fact that you are forced into buying a certain filament brand is not very user-friendly and makes things a little restricted in terms of materials. Overall, the da Vinci Mini Wireless+ is a great choice for beginners looking to get into 3D printing. It comes pre-assembled, it's easy to use, and it's very cheap. What more could you want from our top budget pick?
Pros
Decent print quality for the price
Large build volume
Pre-assembled and easy to use
Runs quieter than most
Includes auto-calibration
WiFi and USB connectivity
Enclosed design
Cons
Poor instruction manual
Requires XYZPrinting own branded filaments
Doesn't come with a heated print bed
Unreliable WiFi connection
The Monoprice MP Select Mini V2 is hard to beat in the budget 3D printer range. Monoprice continuously delivers affordable printers with high-end performance and the Mini V2 is another success story for them. It's full of features and will give printers that are twice the price a run for their money.
It comes fully assembled which is a welcome feature due to the technical knowledge that is required to build this type of printer. The design can be described as half-enclosed with the print head and build plate exposed and the rest of the printer encased to the side. You operate the printer via the knob on the front and although we often see LCD screens these days we still think the old-school knob interface works well.
You've got a heated build plate that is lacking in most other budget printers and this gives the Mini V2 the flexibility of using filaments other than the standard PLA and ABS types. We'd recommend that beginners stick to these two filaments types in the early days anyway and save the experimenting for later.
It's the more experienced users that will welcome the heated build plate and the versatility that it brings. The one downside to the Mini V2 is the build volume because you're not given much room at all. So if you're thinking of larger print projects then maybe the da Vinci Mini might give you more scope and value. The only other slight downside is the manual calibration that's required before printing but in fairness, this process is one of the easiest we've come across and even beginners shouldn't find this too taxing.
Overall, you can't help but be impressed with the Monoprice Select Mini V2. The list of features helps it to stand out in the field of budget 3D printers and you'll struggle to find a better spec at this price. It's definitely in contention for the best cheap 3d printer under 200 and we highly recommend it.
Pros
Easy to use
Good print quality (100 microns)
Heated build plate
Straightforward built-in interface
Supports ABS and PLA filaments
Arrives fully assembled
USB and SD card connectivit
Cons
Small build volume
Noisier printing than some
Manual calibration
Monoprice printers always seem to make regular appearances in any "best of" 3D printer reviews. The reason being is that they always combine value and performance. The Mini Delta is no different and that's why we had to include it in our list of top printers.  In fact, we had to mention this Monoprice printer due to the unique technology that it incorporates which is unlike most other FDM 3D printers.
It uses three independent arms that move the printer head up and down. This gives the Mini Delta increased printing speeds mostly unheard of in this price range so if speed and value are important to you then this printer should be on your list.
The Mini Delta comes pre-assembled which is a blessing for customers because this type of printer design can be quite fiddly to put together, so thank you Monoprice! The frame is lightweight and the heated print bed is circular in design. This circular design might not be to everyone's liking but it does save space and becomes a lot more travel-friendly if you ever need to take this printer out and about with you.
Additional features include auto-calibration which is a huge bonus in a budget printer and you also get WiFi and USB connectivity. The Mini Delta is deceptively powerful when you consider its price tag. If you turn the printing speed down then you can get some impressive print quality and the flexibility shines through when you consider it can print with different types of filament (PLA, ABS. PETG, and wood-infused filaments which requires an additional metal nozzle). The print bed is small so do think carefully about the size of the model you intend to print before parting with your cash, apart from that we must salute Monoprice again for producing an affordable 3D printer that does the job well.
Pros
Great value
Decent print quality (50 microns)
Flexible with filament types
WiFi connectivity
Unique FDM printing technology
Heated print bed and auto-calibration
Cons
No high-level detail printing available
The USB connection can be unreliable
Geeetech decided to cash in on the popularity of Creality's Ender 3 party with the A10 3D printer. The designs are so alike that you can hardly tell them apart but there are some differences and we'll run through them now. The A10 is slightly cheaper than the Ender 3 but it does come with one or two improvements. The build volume has been increased to 220 x 220 x 260mm to give you slightly more room for larger design models.
Geeetech has also looked to improve on the build plate with its own take on the Ultrabase plate design from the ever-popular Anycubic printer. Geeetech's plate name? The Super Plate! It is a good design in fairness to the overall price but maybe "Super" is a little too much to describe this entry-level printer component.
The A10 does come with a few drawbacks though and in all of Geeetech's efforts, their printer falls just short of the all-around performance of the Ender 3 (which we review later on in this article). The A10 comes in three main parts and you will need some technical know-how to assemble the printer. It's completely doable but it just adds to the potential frustration before you can start having fun with everything 3D printing has to offer.
You do have a choice of add-ons which does make the A10 a better printer but of course, these come with extra costs and would tip the final price tag over $200 which defeats the object of these reviews. However, just for your knowledge, you can choose to add a WiFi dongle for extra connectivity options and there is also an auto-leveling sensor which greatly increases the accuracy and adhesion of the first printing layer. Overall, we think that the A10 from Geeetech is a useful printer, after all, it's a copy of the Ender so it can't go far wrong.Pro
Pros
Large build volume for the price tag
Automatically detects if the filament is running out
Good standard of print (100-400 microns)
Power outage safety mechanism
Adhesive coating on the print surface
LCD screen with SD card reader
USB connectivity (WiFi add-on available)
Cons
Requires assembly
Manual bed leveling
3D Printer Basic Terms
Filament
The wire-like material used for 3D printing. You'll most likely see this material coiled into a spool and comes in many different colors. The most common types are ABS (acrylonitrile butadiene styrene) and PLA (polylactic acid).
Extruder
The extruder is a combination of parts that manages the printing material from its original form to the 3D model. In simple terms, the extruder can be summarized into two parts – the cold end and the hot end. The cold end being the motor and components that push and pull the material. The hot end is the component that melts and prints out the filament.
PLA
PLA is an odorless and hard bioplastic. It comes with a low environmental impact and it's created from renewable, starch-based resources. PLA is known to offer minimal shrinkage which just so happens to be perfect for 3D models.
ABS
ABS is a strong plastic that has an industrial background. It has very tough characteristics whilst also being flexible at the same time. It also has a high shrinkage, unlike PLA, and this means it's slightly harder to print with.
Layer resolution
Resolution describes how thick each layer of the 3D print will be. Standard resolution for budget printers are around 0.1mm which is 100 microns and this gives a good quality print if the rest of the printer is built and set up correctly. The higher resolution printers can reach up to 0.02mm/20 microns in the high-end 3D printers.
Print speed
Speed is calculated at how fast the print head moves during the printing process. The amount of material required for extrusion is calculated based on the printer print speed.
The speed at which the print head moves while it is printing. Based on the print speed the amount of plastic that needs to be extruded will be calculated.
Which Printer Under 200 is Right for Me?
Starting your 3D printing adventure does not have to be costly. Although 3D printing sounds like an expensive hobby to keep, it's actually very affordable if you buy the right equipment and don't stretch yourself too much at the start. You can find a handful of 3D printers in the budget range that are more than capable of producing quality results for the casual 3D printing hobbyist. In our eyes you only need to be concerned with two factors when choosing your first 3D printer.
The build volume and whether it's pre-assembled or DIY. So if you can decide on what size models you intend to print, whether it be purely miniatures or a mix of small and large 3D models, you can then decide if you need a larger than average build volume or not. Lastly, if you're not very hands-on when it comes to technology then it's a wise move to opt for a pre-assembled printer.
Something like Creality's Ender 3 is the perfect option and that's why it came in as our best 3d printer under 200. Printers that come pre-assembled are usually set to work straight out of the box or only require very little setup. The very nature of a DIY printer demands that you set up, calibrate, and level up components before you start. Learning how to maintain and fully optimize your 3D printer can give you better results but until you know what you are doing then it's best left alone for now.
The art of 3D printing takes a little skill and a lot of patience and you'll definitely need some experimentation to master it. So take as much hassle and stress out of the process as you can by choosing a printer that's easy to set up, easy to use, and easy to maintain. If you do become obsessed with 3D printing then we can show you some amazing high-end printers for you to get your hands on. Until that day comes, it's best to save your money and focus on the budget options outlined in this review. Happy printing!