by Jake
|
Last Updated:
July 12, 2021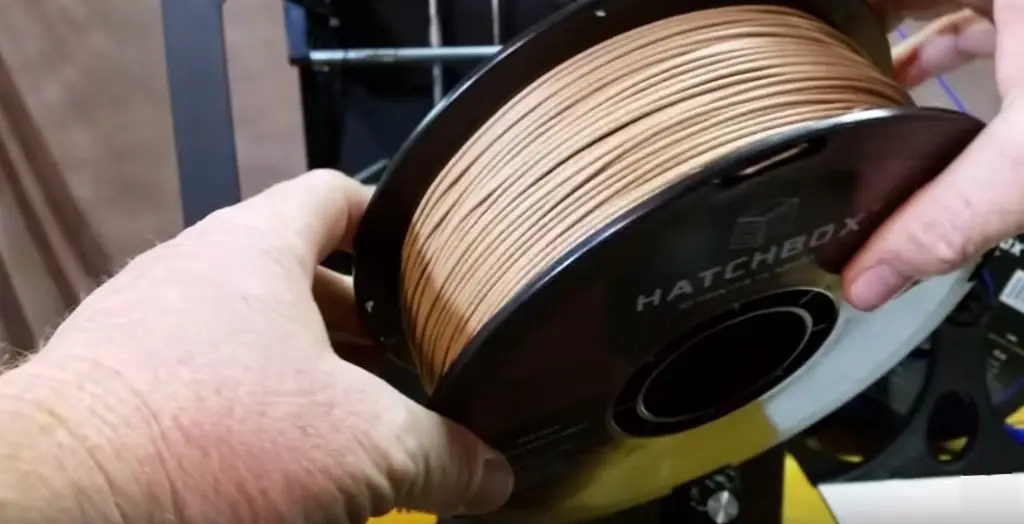 Hatchbox wood filament is an excellent 3D printing material that you should try out at some stage in your 3D printing career. It's well known to be one of the harder materials to work with but if you can master it, or at least get the hang of the technique, then you can create some great results. You need patience with 3D printing so that's a good starting point because you will definitely require extra patience when working with hatchbox wood filament material. You may be in for a surprise if you think wood filaments are easy to work with. Don't be intimidated, because it's not hard, it just requires some extra patience and awareness.
Top Branded Wood Filament Materials
Let's take a look through some of the best wood filament brands that you can buy today. We'll only be listing top-end products so you can expect to see some quality results from these suggestions if you decide to try them out.
1. Hatchbox Wood Filament
Hatchbox delivers the highest quality wood filament material due to its strict quality control procedures. If you haven't heard of this brand before then here are some of the most common questions asked about their wooden filaments:
What is Hatchbox wood filament made of?
It's mostly made up of a mixture of polymers, plant-based materials, and wood particles which is very eco-friendly.
In terms of consistency in the wood Hatchbox filament what percentage is wood?
The wood content is only around 20% but the prints you get when using Hatchbox wooden filaments are impressive, thanks to the superior quality of the combined materials.
What is the density of hatchbox wood filament?
Common wood filaments usually have a density of around 1.15 – 1.25g/cm3.
We've mentioned it before that wooden 3D printing material is difficult to use, however, Hatchbox has managed to keep the tolerances at a near perfect +/-0.01 mm. The standard is around +/-0.05mm and this improvement by Hatchbox along with their strict quality control makes working with their wooden filaments that much easier to use.
Every little helps and you can instantly feel and see the difference when working with Hatchbox materials. You can find these filaments at roughly the same cost as other PLA filaments so you don't have to go and spend a fortune if you want to give 3D wooden printing a try.
2. Wood Filaments by MG Chemicals
MG Chemicals are another top-class 3D printing filament producer. The filaments they create are composed of around 25% poplar wood particles and the rest is PLA. Poplar wood particles are known to be quite large so this means that your nozzle needs to be at least 0.4mm to prevent any clogging issues in your extruder.
Due to the size of these wood particles, you'll be looking at using temperatures of around 210°C – 220°C and then working above and below this temperature to create various shading effects. MG Chemicals are the cheapest brand in this list and you can get some great deals if you buy in bulk from Amazon. You can't really go wrong with the MG Chemicals company because they offer great quality and value for money.
3. Wood Filaments by ColorFabb
The Netherlands-based company, ColorFabb, is one of the best sources for top-rated wood filaments. If you're looking to try your hand at 3D printing with wooden materials then this company has the best range to choose from. Three varieties are available and they are corkfill, woodfill, and bamboofill. Each type comes with its own individual properties and will give you slightly different results.
Corkfill

You will notice a much darker color when using the corkfill filament from ColorFabb. It can be a challenge to work with but the darkness of the prints do give them a high-end quality. Due to the darker color, you'll find that there will be fewer variations of shading available when printing.
Woodfill

Using the woodfill filament will give you that wonderful scent of burning wood and it also gives you the most realistic wooden print out of the three types. Sanding down and staining the final print to create unique styles is very popular, you could also try etching patterns and graphics into the wood with a hot knife if you've got a careful hand!
Bamboofill

Bamboofill is the most versatile wooden filament out of the three types but it can prove to be very fiddly to work with. Testing out different printing temperatures can give you various different shading and the results can look amazing. However, the material is very sensitive and if you don't know what you're doing then you'll find yourself with plenty of clogged up extruders due to the easily burning material.

Needless to say, bamboofill filaments are the hardest material for beginners to print with so it might be worth testing out the other materials first to get some experience behind you.
TIPS FOR SIMPLE 3D WOOD PRINTING
We've got a handful of tips that should help you create some great results when using wooden filaments for the first time. You'll need to spend some time perfecting the techniques but if you've got the patience then you should eventually start to master the wood filament printing method.
Larger nozzles are key
Printing with wood filaments often feels as though you're working with a sort of dense fibreboard and it's completely normal if you start to see dark specks within the material. The use of a larger nozzle ensures that you won't experience any annoying jams in your standard sized nozzle.
Try a nozzle at 0.4mm or larger and this should set you on the right path and you can always grab the sandpaper after printing if you don't like the larger printing layers. To ensure you get the best performance when printing with wood, you should look at buying a hardened steel nozzle as the standard brass nozzles will wear out really quickly with this type of filament material.
Check out the E3D nozzle which has been tried and tested for wood-based filament printing.
Removing the filament after use
Always ensure that you remove the wood filament when you're not printing. Even if you are leaving your printing area for 5-10 minutes then still remove the filament. If you don't, you'll find a messy black residue from the wood particles burning in the printer head if it's still hot. Not good! If you do happen to find this black mess then you'll need to clean the extruder using a special filament cleaner.
Temperature
Wood filaments can create unique burned finishes if you play around with the temperature although there is a fine line between fancy finishes and a ruined print! You'll find that even slight temperature differences can cause the filament particles to ignite. It really does take some experimentation but most of the wood filaments work well between 190°C to 220°C. Using the best quality wood filament will help you gain the best 3D wood prints and the Hatchbox brand (we mentioned earlier) is well worth a look into.
Layer heights & print speeds
Make sure that you working with high layer heights and fast print speeds to ensure that your wooden filament works through your nozzle quickly. You'll find that those burning particle issues will be less of a problem because the faster printing speed ensures that the filament doesn't get time to clog up and ignite.
The only problem here is that quicker printing speeds often results in prints of reduced quality so extra sanding down will be required. Plus, you'll also need to make sure the printer itself is stable because faster printing speeds could cause the printer frame to wobble and this nearly always spells disaster for you and your prints.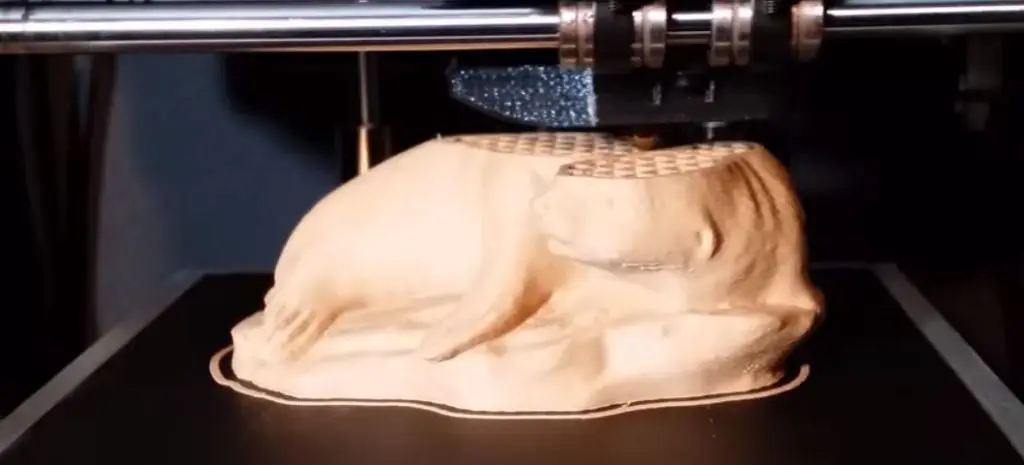 Increase retraction speed
Wood filaments tend to end up fairly runny in consistency in comparison with PLA filaments. This will result in the printer head working differently and so your retraction settings will need to be changed to compensate for the change in material. If you increase the retraction speed and distance then this should prevent your wooden filament becoming a stringy mess! You might need to test out various settings to produce the type of print that you are after.
A heated bed or not
You don't need a heated bed when printing with wooden filaments but it won't do you any harm if you have one and set it to around 45-60°C. If you don't have a heated bed on your 3D printer then a top tip is to use some blue painter's tape, this will give you a useful layer of adhesion on which you can print out your wood prints.
Finishing ideas
Wooden prints look completely fine with that just-printed natural look. However, you can spice things up and add some finishing touches with a few of our wood print tricks. Start out by sanding down your print using fine-grit sandpaper to get consistent, smooth 3D prints.
The print can then be varnished, lacquered, or even coated in wood oil to give it that rich and dark appearance, this will also help to keep any moisture out as well as preserving the print for extra durability. If you've got some artistry skills then perhaps you can think about adding paint or pen markings for some extra unique detail.
Pros
Print temperature can create different shades and finishes
Smells and looks like real wood
Typical woodworking techniques can be used to create unique prints
Cons
Difficult material for beginners to work with
Settings can be hard to define for each type of wood material
Sensitive to heat and can cause clogging issues to the extruder
Wood filaments have only been around since 2012 and it's fair to say that this material is still in its experimental stage so don't be too hard on yourself if you struggle. Wood filaments are commonly made up of around 70% polymer and 30% using various wood fibers. The qualities of wood filament are similar to PLA and PLA+ filaments in that they both share the same levels of strength. However, these new PLA composites don't have any official specifications as of yet and this means that your end results can be a little unpredictable.
It will largely depend on what is used in the non-PLA components in the wooden filament you use. Sawdust was actually used at one stage but this resulted in cardboard-looking printouts and it didn't offer much stability in the finished product.
You can find quite a bit of variety in the wood filaments section in today's market and the end results often look great. They look like wood and they even smell like wood too! The bamboo filament is a popular choice these days because of its strength and strong aesthetic value it brings. Other interesting components of wood filaments being used at the moment include coconut particles and this offers unique water-resistant features with a dark and appealing finish, however, getting the right temperature is a hard technique to perfect.
There is one more point to make on wooden filament materials and we feel as though we should mention it because it's something that is important to many people around the world at the moment. The wood and PLA composite filaments are very biodegradable and so any prints that you do create can be broken down at landfills or in your compost heap. We should all be conscious of buying and working with eco-friendly materials and these wooden filament materials are just that.
Conclusion
You should now have a good idea of how to get the best out of wood filament materials and a little time spent fine-tuning the settings will ensure you get some great 3D wooden prints. Wooden filaments can be a challenge and it will take some time to perfect the printing method. The temperature is usually the biggest issue and only through trial and error will you find the right setting for your material and printer.
Once you do get the right settings dialed in then the results can be really impressive. It'll be worth all the time and patience that you put in to perfect the technique. To be fair to the wooden filaments, it's not all bad and they do come with some advantages. They don't tend to warp or shrink and they do come with that wonderful printed smell. Plus, using sandpaper and wood stain on your print can give them a great professional finish that will set them apart from other standard wood prints.
If you're a creative person then the opportunity to set up a money-making venture could easily be achieved with a set of unique wooden print products. 3D wood prints don't offer the same durability as real wood products but they do make great ornaments and they even make pretty cool board game pieces as well. All you need is a 3D printer and a little patience. It's certainly worth giving it a go because it opens up a new world of printing once you do perfect the technique!