Hatchbox wood filament is an excellent 3D printing material that you should try out at some stage in your 3D printing career. It's well known to be one of the harder materials to work with but if you can master printing with wood filament, or at least get the hang of the technique, then you can create some great results. You need patience with 3D printing so that's a good starting point because you will definitely require extra patience when working with Hatchbox wood filament. So any those of you thinking that it will be as easy as working with PLA filaments then you're in for a big surprise!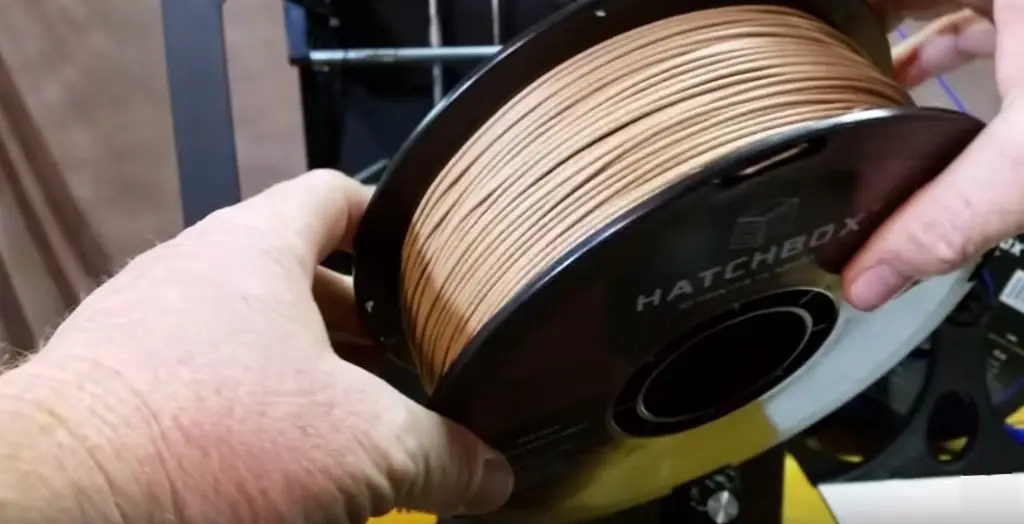 Wood filaments have only been around since 2012 and it's fair to say that this material is still in its experimental stage so don't be too hard on yourself if you struggle. Wood filaments are commonly made up of around 70% polymer and 30% using various wood fibers. The qualities of wood filament are similar to PLA and PLA+ filaments in that they both share the same levels of strength. However, these new wood filament composites don't have any official specifications as of yet and this means that your end results can be a little unpredictable. It will largely depend on what is used in the non-PLA components in the wooden filament you use. Wood Sawdust was actually used at one stage but this resulted in cardboard-looking printouts and it didn't offer much stability in the finished product.
You can find quite a bit of variety in the wood filaments section in today's market and the end results often look great. They look like wood and they even smell like wood too! The bamboo wood filament is a popular choice these days because of its strength and strong aesthetic value it brings. Other interesting components of wood filaments being used at the moment include coconut particles and this offers unique water-resistant features with a dark and appealing wood looking finish, however, getting the right temperature is a hard technique to perfect.
There is one more point to make on wooden filament materials and we feel as though we should mention it because it's something that is important to many people around the world at the moment. The wood and PLA composite filaments are very biodegradable and so any prints that you do create can be broken down at landfills or in your compost heap, just like other wood products. We should all be conscious of buying and working with eco-friendly materials and these wooden filament materials are just that.
Top Branded Wood Filament Materials
You should now have a good idea of how to get the best out of wood filament materials and a little time spent fine-tuning the settings will ensure you get some great 3D wooden prints. So let's take a look through some of the best wood filament brands that you can buy today. We'll only be listing top-end products so you can expect to see some quality results from these suggestions if you decide to try them out.
WOOD FILAMENT CONCLUSIONS
Wooden filaments can be a challenge and it will take some time to perfect the printing method. The temperature is usually the biggest issue and only through trial and error will you find the right setting for your material and printer. Once you do get the right settings dialed in then the results can be really impressive. It'll be worth all the time and patience that you put in to perfect the technique. To be fair to the wooden filaments, it's not all bad and they do come with some advantages. They don't tend to warp or shrink and they do come with that wonderful printed smell. Plus, using sandpaper and wood stain on your print can give them a great professional finish that will set them apart from other standard wood prints. If you're a creative person then the opportunity to set up a money-making venture could easily be achieved with a set of unique wooden print products. 3D wood prints don't offer the same durability as real wood products but they do make great ornaments and they even make pretty cool board game pieces as well. All you need is a 3D printer and a little patience. It's certainly worth giving it a go because it opens up a new world of printing once you do perfect the technique!