Collecting and building up your armies and hordes is an expensive yet exciting part of D&D, so what are our options? If using miniatures we often need tons of miniatures in order to create the perfect D&D game. 3D printers have shown us that it's possible, although the quality is hit and miss at times depending on the material and printer we use. Buying secondhand miniatures from sites like eBay or from other D&D fans can sometimes produce some worthwhile finds. Kickstarter projects, like Reaper Bones, offers great value for money if you want printed miniatures in bulk. However, hold the front page, because we've got a very interesting option that you might not have yet considered and it offers exceptional value for money. What exactly is it? Well, it involves making use of printable d&d miniatures templates and I know this might not sound like the most exciting prospect, but let us explain a little more about what you can expect from this cheap and cheerful alternative.
PROS
Extremely cheap and easy to use

Custom-designs to build unique armies

A quick solution to building up your D&D collection
CONS
Not as visually appealing as metal or plastic miniatures

Paper minis are weak and easily bent or broken
ARTISTS USING THEIR TALENT FOR D&D MINIS
Talented artists are currently designing their own versions of miniature characters. These entrepreneurs are now giving D&D fans a cheap and cheerful way of building up their armies. All you need to do is buy and download the D&D paper miniatures template of each character design and print them out. Simple, right? The designs are detailed and look amazing, plus they are a lot cheaper than any other option out there at the moment. Unless of course, someone gives you a bunch of miniatures for free then please, do make sure to pass on their contact number! All jokes aside, buying secondhand minis from websites and friends can often leave you with a limited selection. They might not have the type of characters and monsters that suit your campaigns. Get in touch with a paper miniatures D&D artist and you'll almost be spoilt for choice. Furthermore, if you're a talented artist yourself then the D&D world is your oyster, my friend!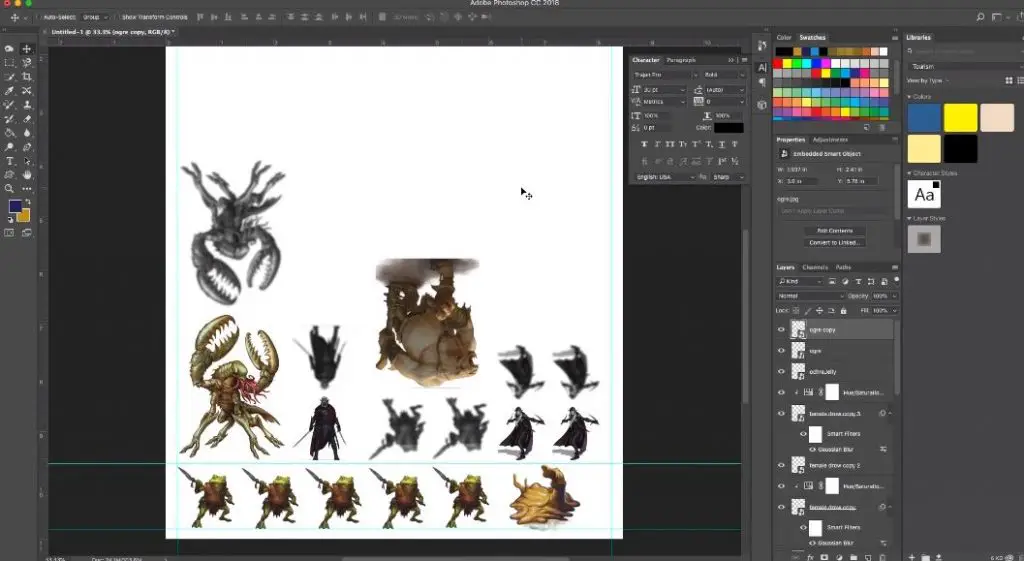 WHERE CAN I BUY PAPER MINIATURES?
You don't have hundreds of options when it comes to sourcing the paper-based D&D printable minis. However, there are one or two go-to sites that have built up a steady following of fans and we'll go through each option for you now and show you how to build your armies and hordes at a fraction of the usual cost.
Paper Mini
Paper Mini is run by an artist called Lucas and he has an amazing talent for creating wild and wonderful beasts (and some impressive human characters as well). You can find his site at https://www.patreon.com/papermini and there are several buying levels to choose from. Free templates are available to download but these only make up around 25% of the total number of designs on the site. It's a good place to start if you want to test the paper miniatures out first. If you like what you see then you can sign up to one of the following subscription-based offers:
Level 1 – Characters
$1 or more per month will give you access to all miniature templates but excludes any of the crowdsourced mini design.
Level 2 – Architecture
$2 or more per month will give you access to all of the small architecture designs such as portals, shrines, furniture, etc. You'll also get 100% access to the mini templates from the first level.
Level 3 – Crowdsourced Minis
$3 or more per month will give you everything from Levels 1 and 2 plus access to the monthly poll where you get to request and vote for your favorite mini character designs. You'll also get 1 extra character a month which might end up being your own design which is pretty cool!
Once you've chosen your preferred subscription level, all you need to do is download the templates and print them off. It does take a little bit of fiddling about to get the finished product but it doesn't take long once you get the hang of it. Here's a quick rundown of the process from start to finish:
Download the character template from Paper Mini

Print out the template on quality photo paper with your home printer

Recommended glossy paper size – 6x4inch / 15x10cm

Cut along the lines shown on the template

Scratch along the line so it's easier to fold

Use glue or double-sided paper to stick the front and back together

Cut the black lines with a paper knife to remove the leftover template

Cover white edges with a black marker and stick base to metal washer or coin

Metal washer or coin is recommended for stability

Cut around the base and you'll have the finished character ready to use!
PAPERCRAFT DUNGEON SETS
Papercraft Dungeons is a website with a huge selection of D&D mini characters, monsters, buildings, and scenery templates to choose from. Sets of six characters start from as little as $1 and you have a huge number of different styles with Snakemen, Dwarves, Brotherhoods, and Skeleton people plus many more! There are many different styles of building and scenery templates that offer near infinite combinations of arrangements. It's a D&D fan's dream and your hordes and landscapes will grow tenfold from as little as a few dollars.
Make sure to check out the bundle's section as there are plenty of discounts to be taken advantage of. The "Buy Everything!" bundle is the all-conquering offer and you get every template in the shop. The bundle is currently on sale for $79.59 which is an absolute bargain if you ask us!
OTHER PAPER D&D RESOURCES
LITKO
Litko is your go-to online store for all D&D miniature accessories. The site has hundreds of different mounts, bases, and stands for your paper minis and it's the perfect accompaniment for your Paper Mini and Papercraft Dungeon template designs. As standard, paper minis don't offer amazing durability so bolstering them up with some LITKO mounts and bases could be just the finishing touch that you're looking for.
DNDBEYOND
DNDBeyond covers all of your D&D needs with character templates, rules, game guides, and everything else in between. It doesn't hold the same quality of characters as the Paper Mini and Papercraft Dungeon sites but it's a great source of inspiration when you're looking to expand your D&D terrain and armies. You can also get involved in the forums to learn more tips and tricks when it comes to everything D&D.
Conclusion
Paper mini designs should definitely be considered if you're looking to boost your collection and introduce different character designs. It's just a case of printing, cutting and gluing (or sellotaping) so it's super easy and anyone can get the hang of it. It's a lot less time-consuming than painting miniatures and artists like Lucas at Paper Mini offer amazing designs with excellent detail. Many people turn to paper miniatures when they are short on time and need to quickly acquire monsters and heroes for an upcoming D&D campaign. Even if they prove to be a set of placeholders for a few months until you have enough money to buy plastic or metal miniatures, you can't really go wrong with them because they are so cheap. D&D paper miniatures template designs are widely available to download so print off a few of them and see how you get on. We think that you'll be pleasantly surprised by the potential of D&D paper miniatures and your armies will soon be overflowing with numbers!